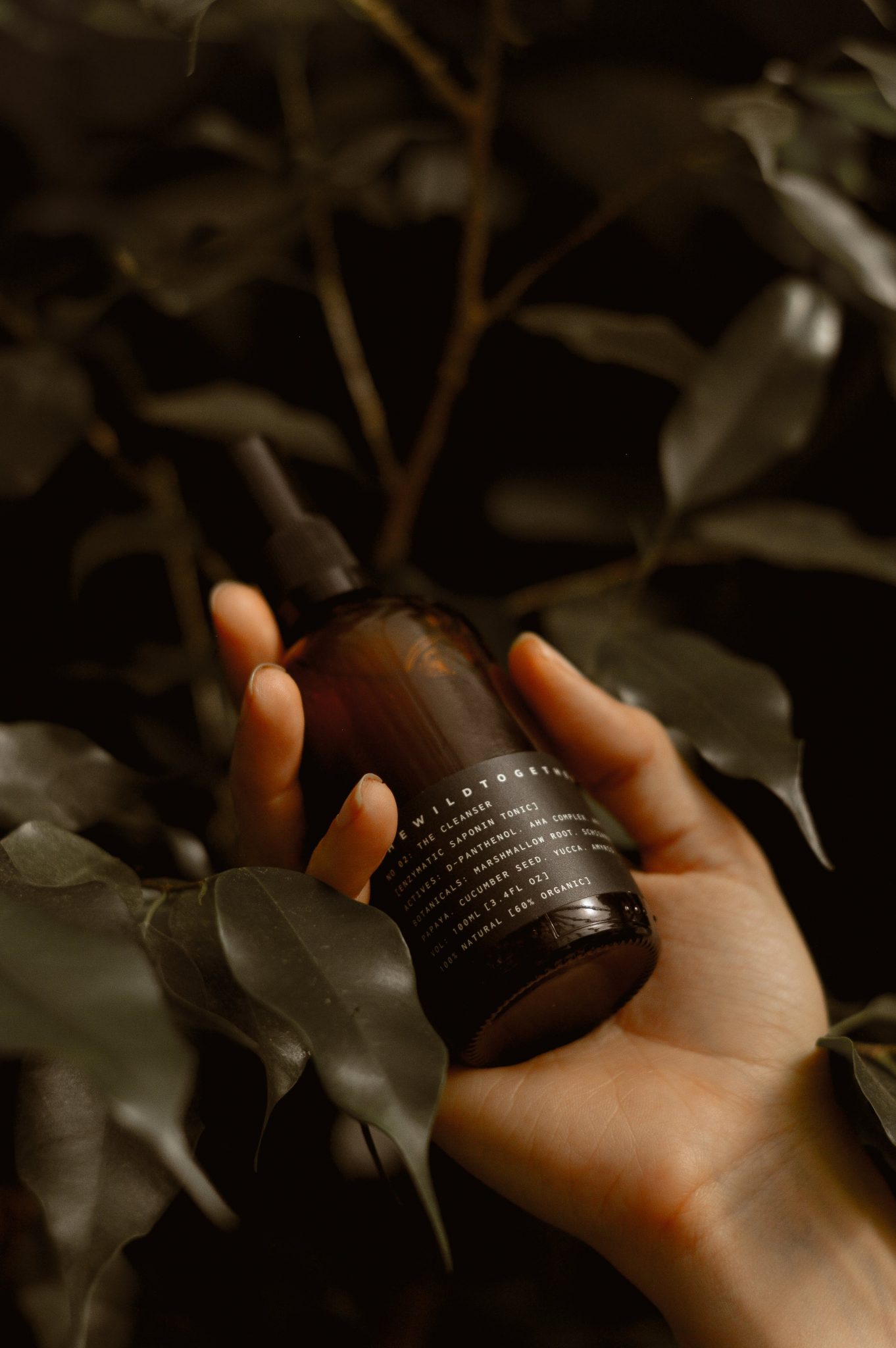 100% Natural [60% Organic] / 100ml
A dual action, low-foam daily cleanser packed with antioxidants, amino acids, anti-bacterial botanicals, fruit alpha hydroxy acids [AHAs] and healing herbs to stimulate cell renewal and gently lift away impurities, leaving the skin thoroughly cleansed, conditioned, soothed, protected and prepared to receive the active ingredients that follow.
+ Functions as a shaving foam
Use 1-2 times daily. Lather in hands and massage over face/neck for a cleanse/shave. Rinse.
Key Actives:
D-Panthenol. AHA Complex [Alpha-hydroxy acid]. Apple Aminos.
Key Botanicals:
Marshmallow Root. Schisandra Berry. Papaya. Cucumber Seed. Yucca. Amyris. Arvensis.
Complete Ingredient List:
Aqua, Decyl Glucoside, Sodium Cocyl Apple Amino Acids, Glycerine*, Cocamidopropyl Betaine, Hydrolyzed Wheat Protein, Yucca Schidigera Extract*, Cucumis Sativus Extract*, Panthenol, Carica Papaya Extract*, Helianthus Annuus Oil*, Althaea Officinalis Extract*, Rosmarinus Officinalis Extract*, Amyris Balsamifera Oil*, Schisandra Sphenanthera Extract*, Sodium Benzoate, Potassium Sorbate, Cedrus Atlantica Oil*, Tocopherol*, Mentha Arvensis Oil*, Pogostemon Cablin Oil*, Vetiveria Zizanoides Oil*, Vaccinium Myrtillus Extract, Saccharum Officinarum Extract, Citrus Aurantium Dulcis Extract, Citrus Limon Extract, Acer Saccharum Extract, Sodium Phytate, Lysolecithin, Sclerotium Gum, Xanthan Gum, Pullulan.
*Organic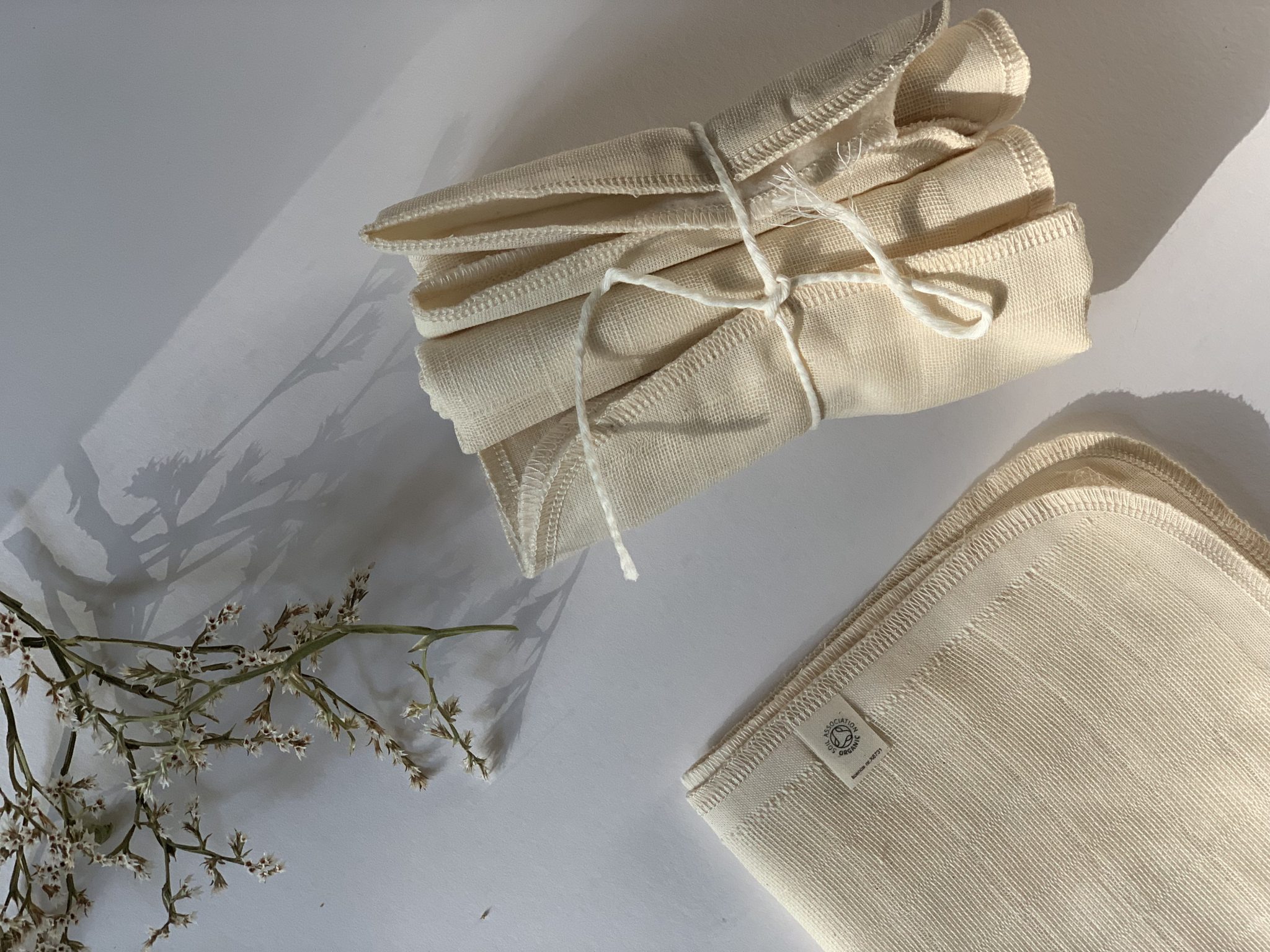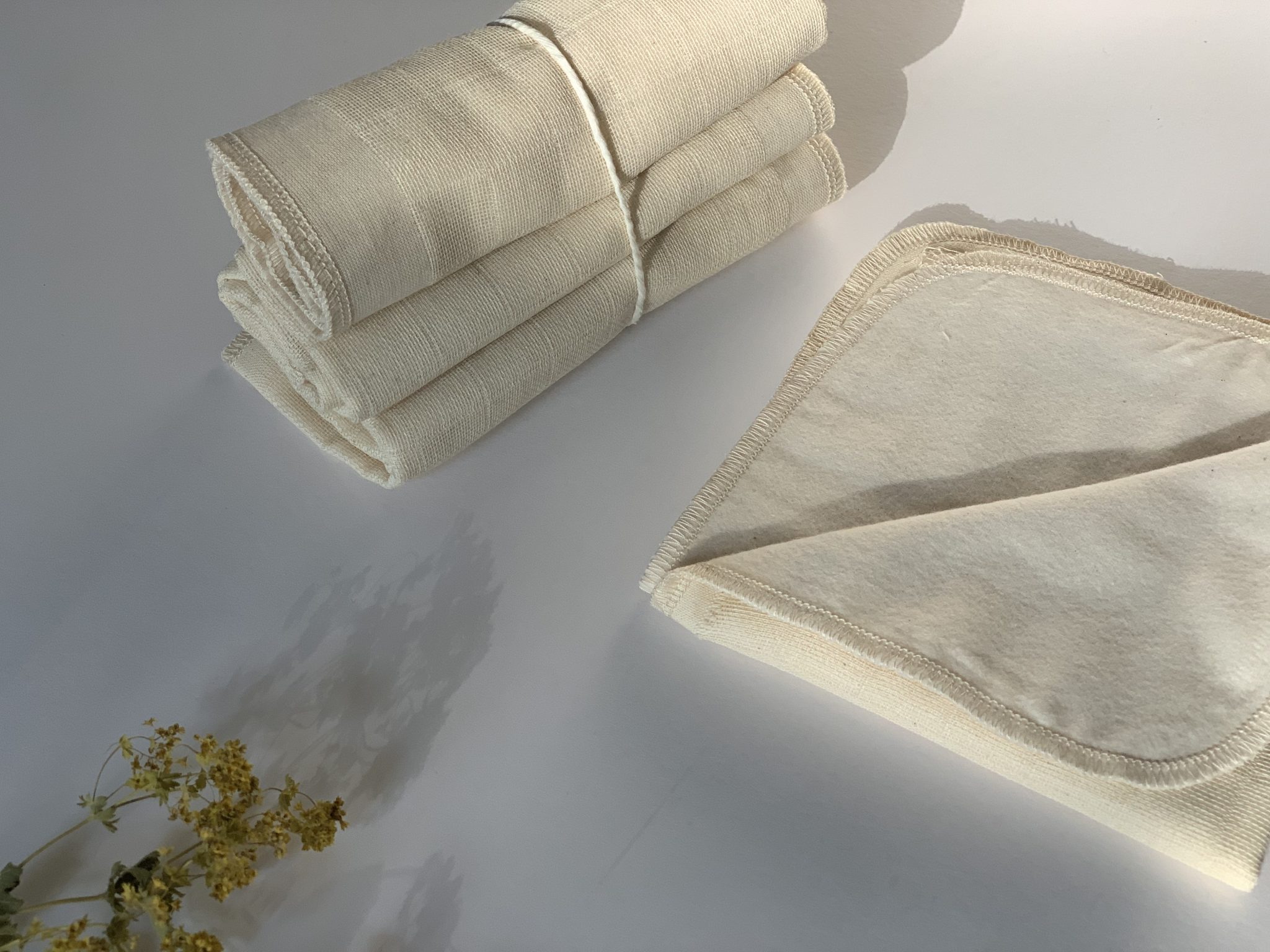 Three Double-Sided Organic Muslin Face Cloths
A trio of 100% organic cotton double-sided muslin face cloths — the perfect companion for at home or trips away.
One side of each washcloth is a net-like muslin texture, which is so effective for gentle exfoliating when washing your face or removing face masks. The other side is a fluffy, soft, absorbent brushed cotton that will gently clean even the most sensitive skin areas.
The washcloths are particularly useful when removing The Cleanser or The Exfoliant, helping to exfoliate the skin prior to applying The Essence.
Soil Association approved.
INGREDIENT SPOTLIGHT: D-PANTHENOL
D-Panthenol is a nutrient from the B vitamin family that helps manage the negative results that stress can have on the skin, playing a key role in the repair mechanism of cells and tissues.
D-Panthenol is a nutrient from the B vitamin family that helps manage the negative results that stress can have on the skin, playing a key role in the repair mechanism of cells and tissues.
A dual enzymatic/physical exfoliating foam to deep clean pores and to leave skin visibly smoother. Instantly refreshes and refines the skin – both chemically and physically – to eliminate dead skin cells, dirt and debris, leaving a super-smooth, luminous complexion. Suitable for normal, dry, oily and blemish-prone skin types, this combination targets the visibility of dark spots, scars and fine lines to leave skin even, smooth and supple.
Normal to oily skin, congested pores, signs of skin ageing, dark spots, large pores
Skin is left soothed, smoothed and renewed, allowing other products to be more effective.
Use 1-2 times weekly. Blend THE CLEANSER with 1/2 tsp of THE EXFOLIANT. Massage into damp face. Rinse away with warm water.
An anti-ageing purifier to remove embedded toxins and impurities and to rebalance the skin. This decongesting cleansing balm that makes light work of dissolving dirt, make up, sunscreen and excess oil. Sufficiently gentle for use around the eyes, this moisturising blend melts stubborn mascara while conditioning and soothing skin (and eyelashes) with potent plant extracts. 
+ Adds an extra layer of protection for sensitive or dry prone skin whilst shaving
City dwellers, ageing and/or sensitive skin.
Skin is left purified, rebalanced, hydrated and nourished.  
Use nightly. Blend 5 drops of THE SERUM with 1 pump of THE CLEANSER. Massage into a damp face, shave or wash. Remove with a warm, damp face cloth.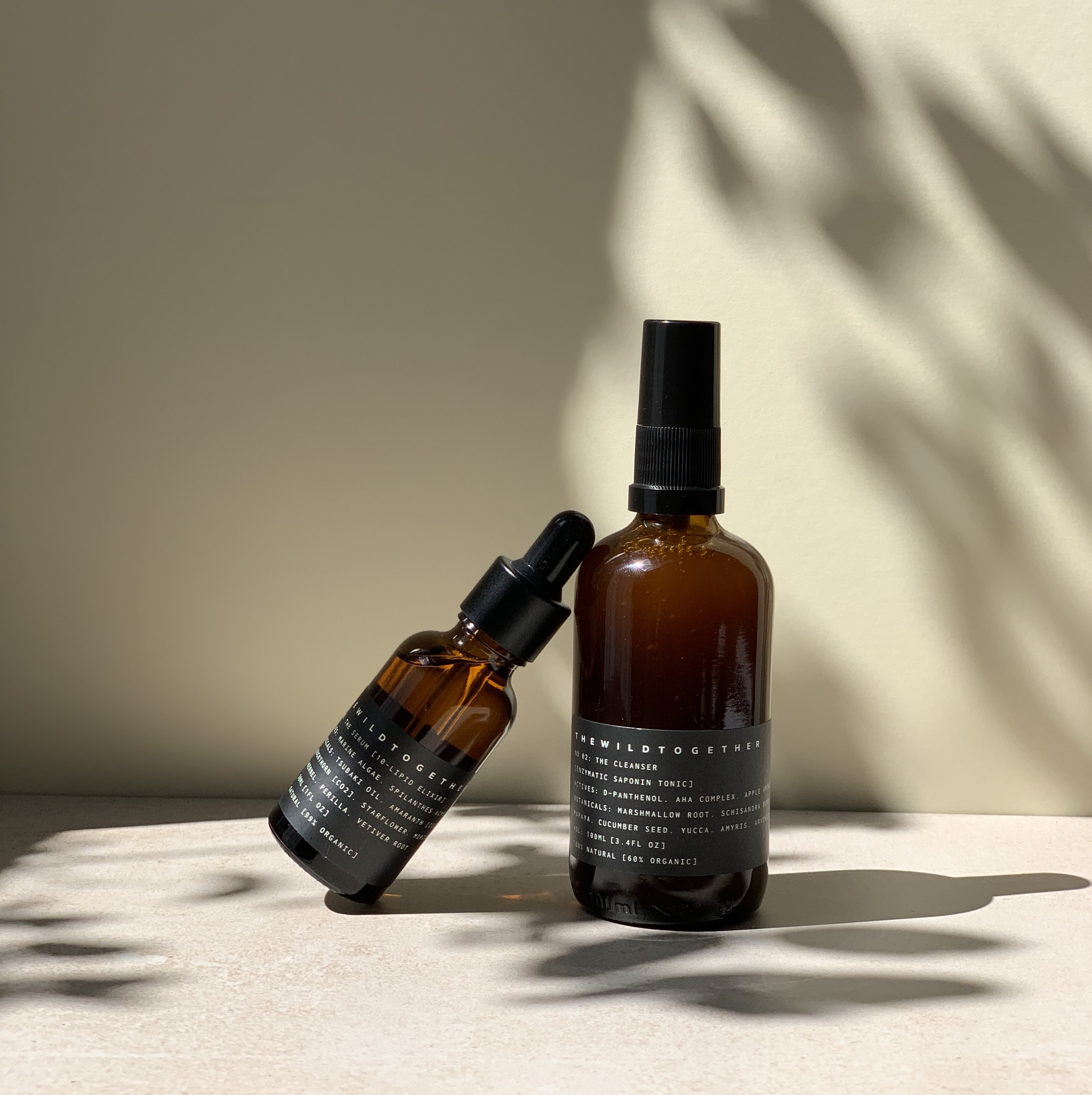 We set out to create The Wild Together with a singular vision: to radically shift the consciousness of the luxury care industry without compromising on quality, ethics or aesthetics. We wanted to give everyone access to better luxury skincare standards, so we took a direct-to-consumer approach – without intermediaries such as Wholesalers, Distributors and Retailers.
This allows us to guarantee the finest quality natural and organic products at fair prices for everyone our brand touches.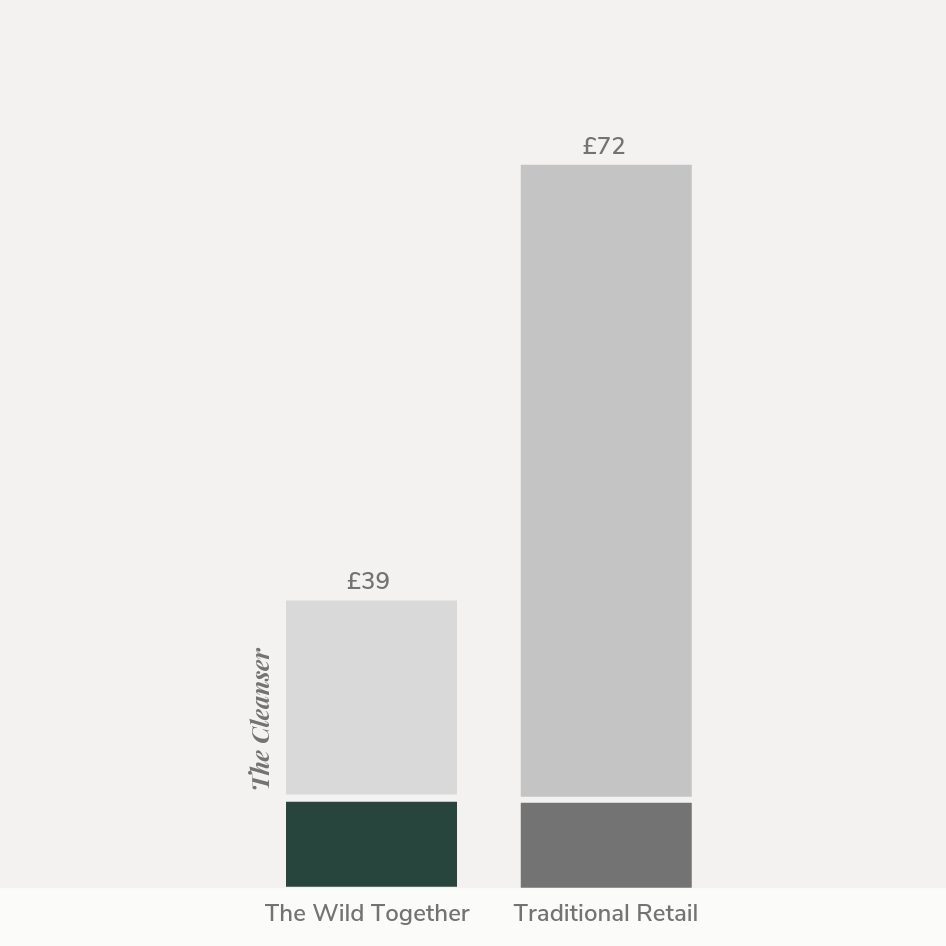 Made in the UK with Certified Organic, Vegan, Cruelty Free & Sustainably Sourced Ingredients.