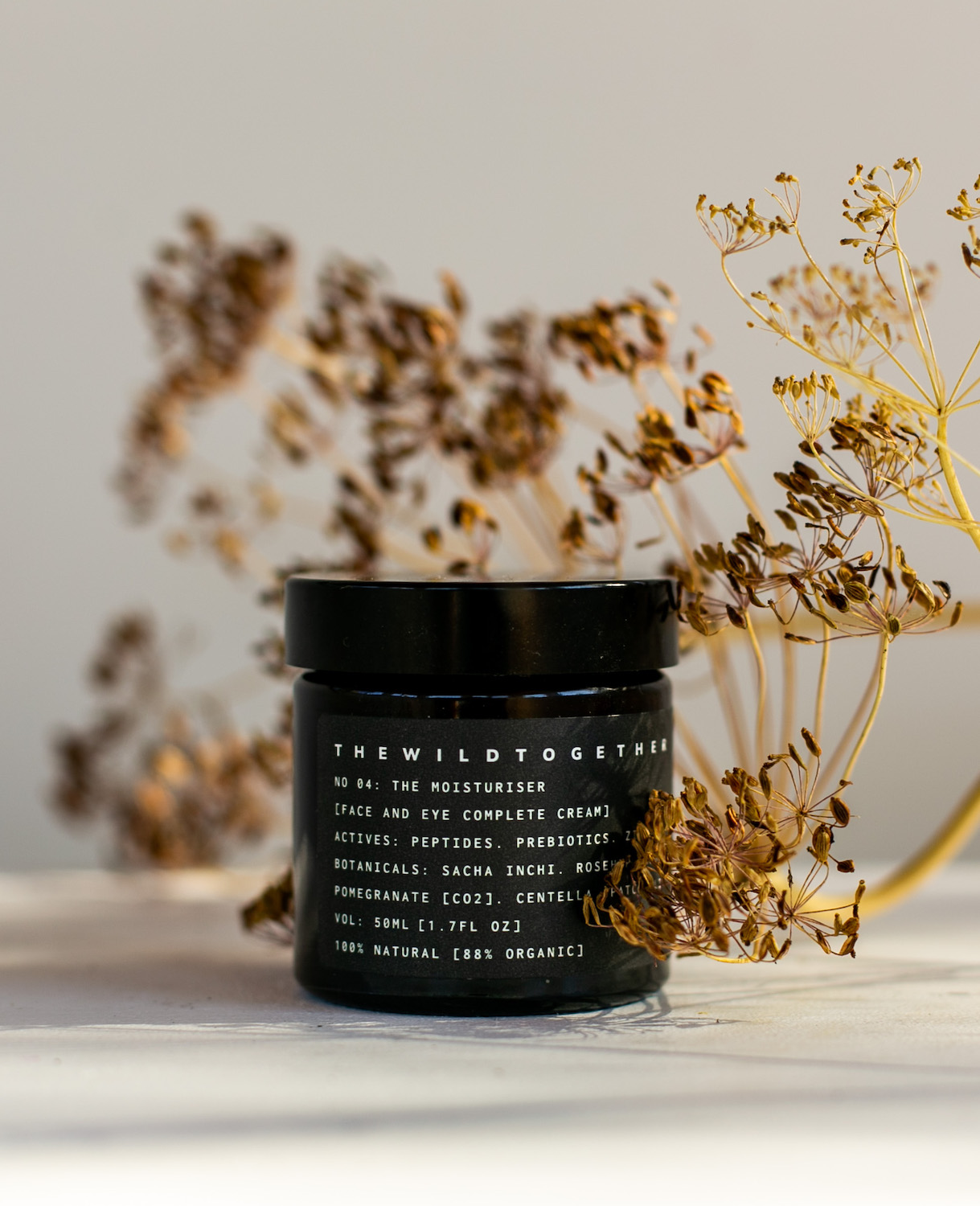 [Face & Eye Complete Cream]
100% Natural [88% Organic] / 50ml
A lightweight, balancing daily defence hydrator rich in amino acids, beta carotene, fatty acids, and phytochemicals to nourish, tighten and protect eye and facial skin. This super blend of peptide enzymes, Pomegranate CO2, adaptogenic Centella and prebiotics combine to activate cellular regeneration and tissue repair, strengthening the skin's delicate barrier function and warding off free-radical damage.  
Use 1-2 times daily. Massage into skin primed with THE ESSENCE.
Key Actives:
Pea Peptides. Prebiotics. Zinc Oxide.
Key Botanicals:
Sacha Inchi. Rosehip. Cannabis Sativa [Hemp]. Pomegranate [CO2]. Centella. Patchouli.
Complete Ingredient List:
Aqua, Rosa Damascena Flower Water*, Carthamus Tinctorius Seed Oil*, Glycerin*, Rosa Canina Fruit Oil*, Plukenetia Volubilis Seed Oil*, Cetearyl Glucoside, Sorbitan Olivate, Helianthus Annuus Seed Oil*, Cetyl Alcohol, Pisum Sativum Enzyme, Cannabis Sativa Seed Oil*, Mangifera Indica Seed Butter*, Tapioca Starch*, Sodium Levulinate, Glyceryl Stearate Citrate, Centella Asiatica Extract*, Inulin, Alpha-Glucan Oligosaccharide, Sodium Anisate, Punica Granatum CO2 Extract*, Stearic Acid, Zinc Oxide, Tocopherol*, Pogostemon Cablin Oil*, Cedrus Atlantica Bark Oil*, Amyris Balsamifera Bark Oil*, Vetiveria Zizanoides Root Oil*, Mentha Arvensis Leaf Oil*, Lysolecithin, Sclerotium gum, Xanthan gum, Pullulan, Potassium Sorbate, Sodium Citrate.
*Organic 
INGREDIENT SPOTLIGHT: PEA PEPTIDES
Peptides are a patented extract from the seeds of pisum sativum L. [peas] that protect collagen and elastin against the deleterious effects of proteases activated through ageing and stress while also strengthening skin elasticity and providing improved, long-lasting hygro-regulation.
Ingredients / Quality obsessed
20+ High Performance Ingredients
The high performance botanicals in The Moisturiser were strategically chosen for their synergy with each other and for their multi-correctional results. From nutrient-dense superfoods, balancing adaptogens, and plants prized for their time-honoured healing capabilities, This daily defence hydrator delivers efficacy through ingredient sourcing of the utmost quality. The formula for The Moisturiser is a complex one that offers versatile performance for facial and eye skin to deeply nourish, hydrate, repair, protect, and prepare skin for The Serum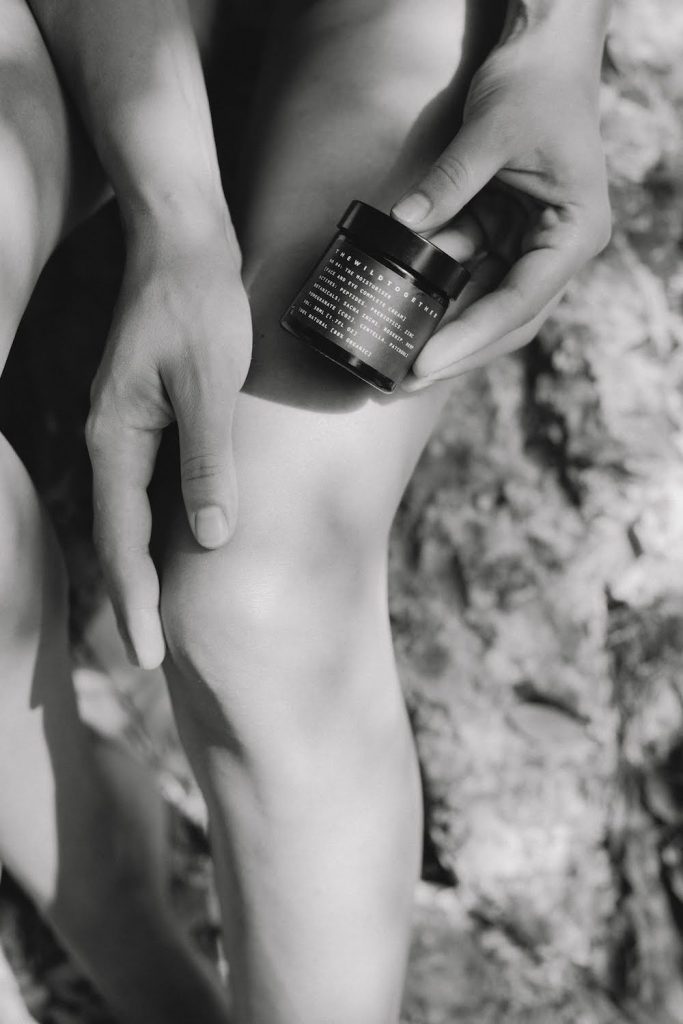 The Moisturiser is formulated to be a safe and effective treatment for a number of skin issues and the mixable formula centres on offering multi-correctional results. The Moisturiser is designed for people who care about high-performance, all-natural ingredients and who want their skin to feel and perform at its best every day — regardless of age, skin type, gender or ethnicity.
Rosehip, Sacha Inch, Safflower and Mango Seed Butter feed your skin with amino acids, beta carotene, fatty acids, and phytochemicals and contribute to restoring smoothness and moisture to skin.
Our powerful nutrition amplifies the skin's own renewal process while Pea Peptide Enzymes and Centella Extract jumpstarts collagen production.
Probiotics, Zinc Oxide and Vitamin E help to fortify the skin barrier and protect against environmental aggressors.
The water soluble ingredients in our emulsion work together to create multi-dimensional hydration that lasts, resulting in more supple and resilient skin.
With 20 skin nourishing botanicals, our formula delivers unparalleled nutratives deep into the epidermis.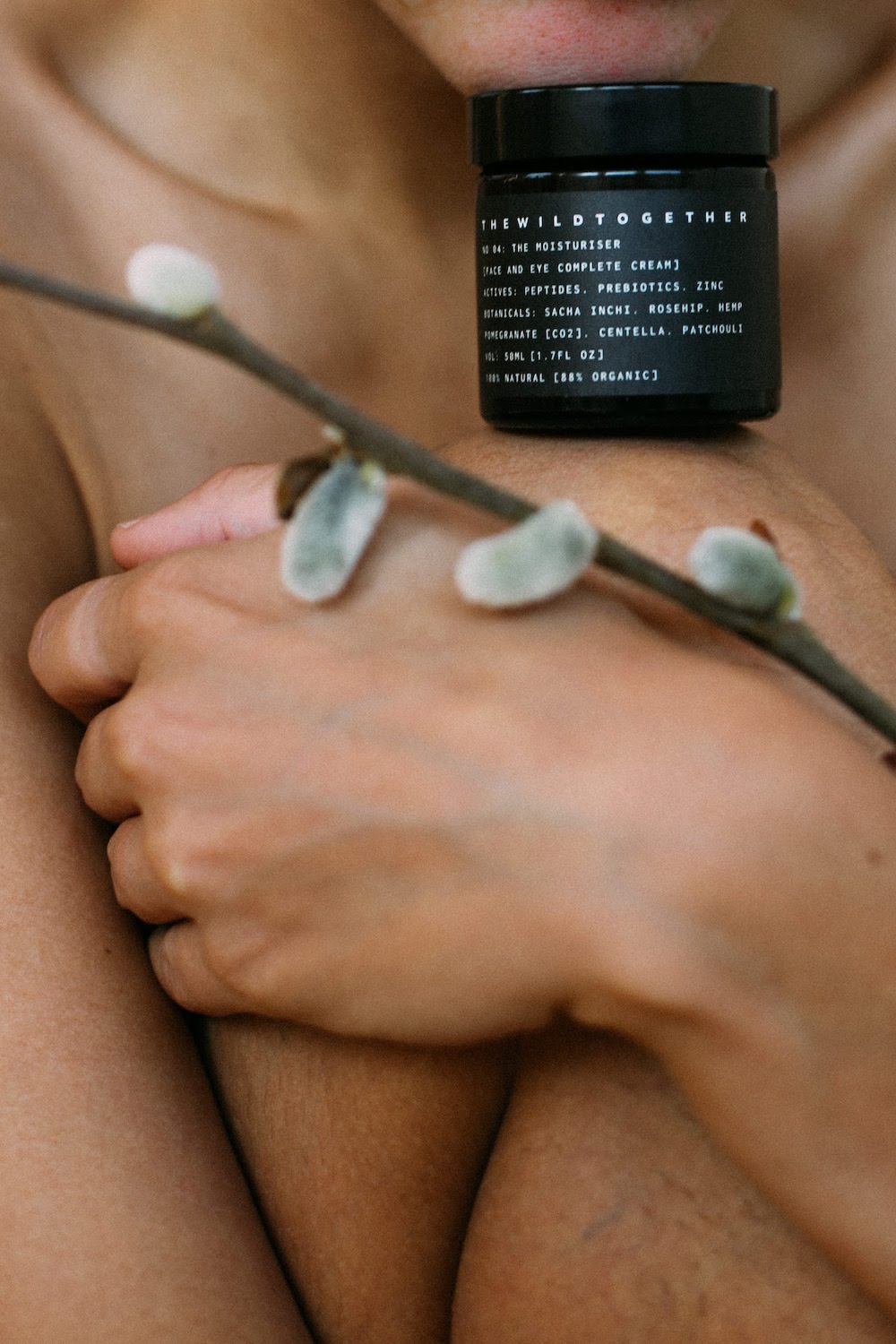 Andrew
"Thank you for the beautiful contribution you make to my life through your company. I've been using The Black Collection for about six months now and have noticed a total transformation in the way my skin looks and feels. I know self-care is very trendy right now, but truly, the ritual of using your products daily provides a cool moment for self-love that I absolutely cherish. I believe in what you're doing and I thank you!"
Jessica
"1 year using The Moisturiser and I'm still totally obsessed with it! Every time I open it up, the colour of it puts a smile on my face. "
Gemma
"My skin is so smooth when I wake up in the morning. I can't stop touching my face. I love all your products but The Moisturiser is my favourite. No hesitation!"
Sophie
"Finally! A day and night moisturiser that doesn't clog my pores. I just did away with the other ones I was using and the results are so much better."
Jared
"This product is genius. Everything I need for my face and under eyes in one eco friendly jar!"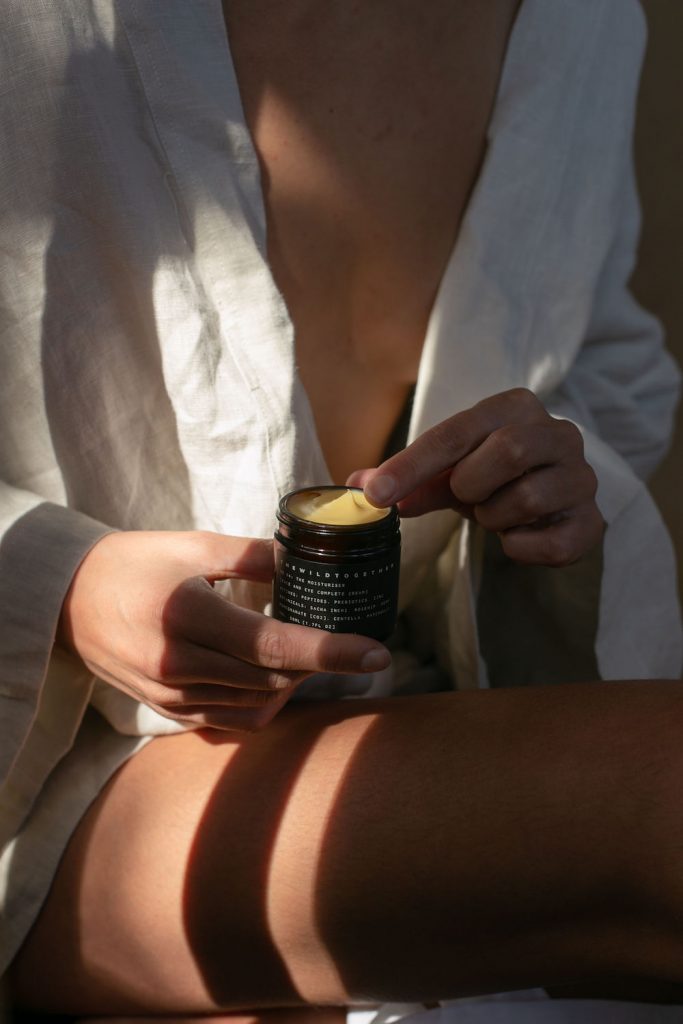 Frequently Asked Questions
Do I need another eye cream?
The Moisturiser is all you need and this delicate Face And Eye Complete Cream works hard to reverse a multitude of sins and restore skin to its optimum condition. Whether you're suffering from a bad night's sleep, jet lag, overexposure or an intense session at the gym, the natural ingredients in The Moisturiser are rich in nourishing, tightening and brightening properties to help with under-eye bags and to rescue thirsty skin cells.
Does The Moisturiser contain an SPF?
The Moisturiser contains the mineral UV blocker Zinc Oxide [particularly for it's healing properties] so it will contain a very small amount of natural SPF but it hasn't been formulated specifically for that purpose. When formulating The Moisturiser, we wanted it to be as multifunctional as possible and suitable for all people in all locations, all year round, day or night.
Is The Moisturiser fragrance-free?
The Moisturiser contains no artificial fragrance. You may detect a pleasant aroma though from a unique combination of (allergen-free) aromatic extracts. Although they smell great, we choose to include these essential oils particularly for their gentle skin regenerating properties.
simply the best
All The Wild Together products are all I have ever been looking for. They actually make a difference on my skin and they smell like heaven. I also love that I don't have to worry about the quality and origin of the ingredients, because they are simply the best. Thank you TWT!
GLOWING
I am a bit of a skin care addict and have tried a lot of different products. Nothing has hydrated my skin as well as this moisturiser. I have only been using it just over a week but my skin is just glowing and has helped with some smile lines I have on my mid cheeks. I thought 50ml would be small but a little goes a long way and it comes in a beautiful jar.

No 04: The Moisturiser [Face And Eye Complete Cream]