100% Natural [99% Organic] / 30ml
A versatile, nutrient-dense, anti-aging elixir enriched with 10 omega-abundant lipids, powerhouse actives, adaptogenic botanicals and CO2 extracts — each selected for their powerful skin regeneration abilities. The instantly absorbing, anti-inflammatory blend stimulates production of structural skin proteins using actives proven to rebuild, firm and smooth the skin. The formulation is especially rich in omega-3 and sterols that promote optimal natural moisturising factors [NMFs].
For skin or beard: warm 1-5 drops in palms and apply as often as needed. For pre or post shave / dry hair ends / double cleanse: apply a thin layer as desired.
Key Actives:
Micro Marine Algae. Spilanthes Acmella.
Key Botanicals:
Tsubaki Oil. Amaranth [CO2]. Sea Buckthorn [CO2]. Starflower. Moringa. Plum Kernel. Perilla Seed. Vetiver Root.
Complete Ingredient List:
Perilla Ocymoides Seed Oil*, Camellia Oleifera Seed Oil*, Camelina Sativa Seed Oil*, Carthamus Tinctorius Seed Oil*, Moringa Oleifera Seed Oil*, Prunus Domestica Seed Oil*, Borago Officinalis Seed Oil*, Hippophae Rhamnoides Berries CO2 Extract*,  Cylindrotheca Fusiformis Extract, Spilanthes Acmella Flower Extract, Vetiveria Zizanoides Root Oil*, Tocopherol*, Amyris Balsamifera Bark Oil*, Cedrus Atlantica Bark Oil*, Pogostemon Cablin Oil*, Mentha Arvensis Leaf Oil*, Caprylic/Capric Triglyceride, Rosmarinus Officinalis Leaf Extract*.​
*Organic
This Christmas, let us take care of creating a truly special experience for someone you love, with our hand-crafted gift wrapping.
All you need to do is add it to your order and leave details at checkout [in notes] for who the gift is for and what message you would like to leave for them. Then we'll take care of the rest.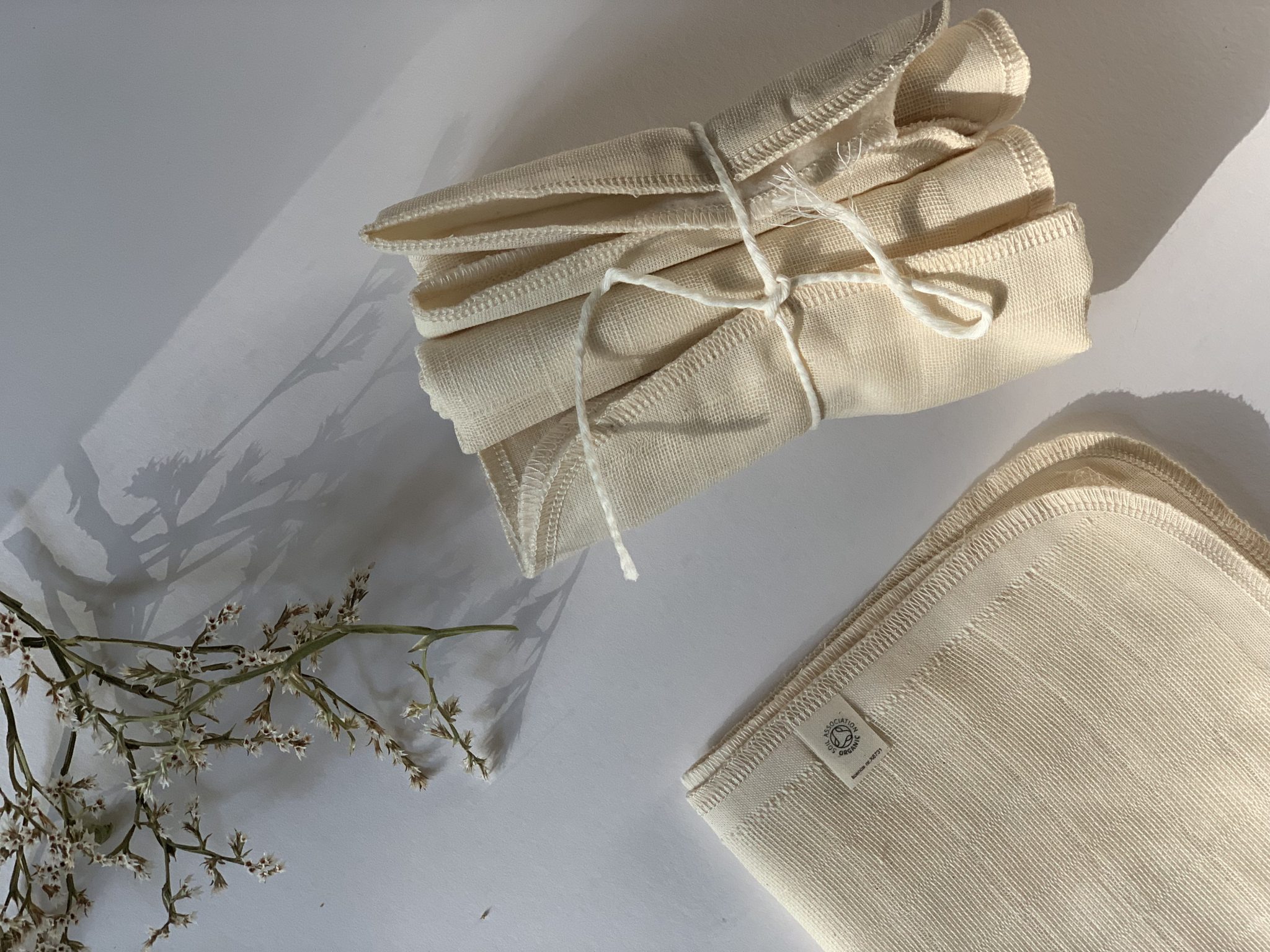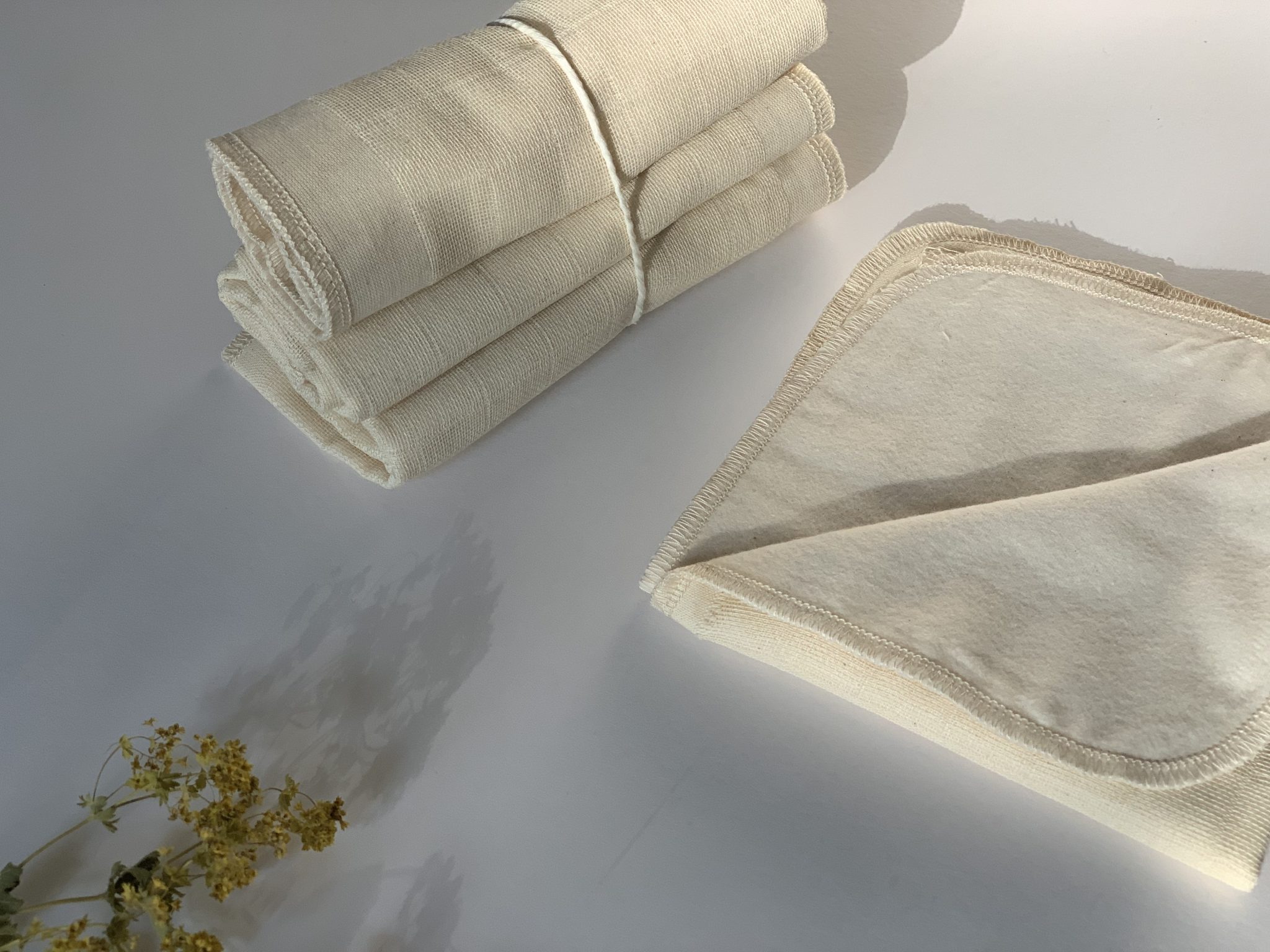 Three Double-Sided Organic Muslin Face Cloths
A trio of 100% organic cotton double-sided muslin face cloths — the perfect companion for at home or trips away.
One side of each washcloth is a net-like muslin texture, which is so effective for gentle exfoliating when washing your face or removing face masks. The other side is a fluffy, soft, absorbent brushed cotton that will gently clean even the most sensitive skin areas.
The washcloths are particularly useful when removing The Cleanser or The Exfoliant, helping to exfoliate the skin prior to applying The Essence.
Soil Association approved.
INGREDIENT SPOTLIGHT: SPILANTHES ACHMELLA
Spilanthes is a South African plant grown by local farmers that is proven to restructure, firm and smooth the skin. It has an instantly noticeable effect as it strengthens the collagen matrix and increases the density and elasticity of the skin.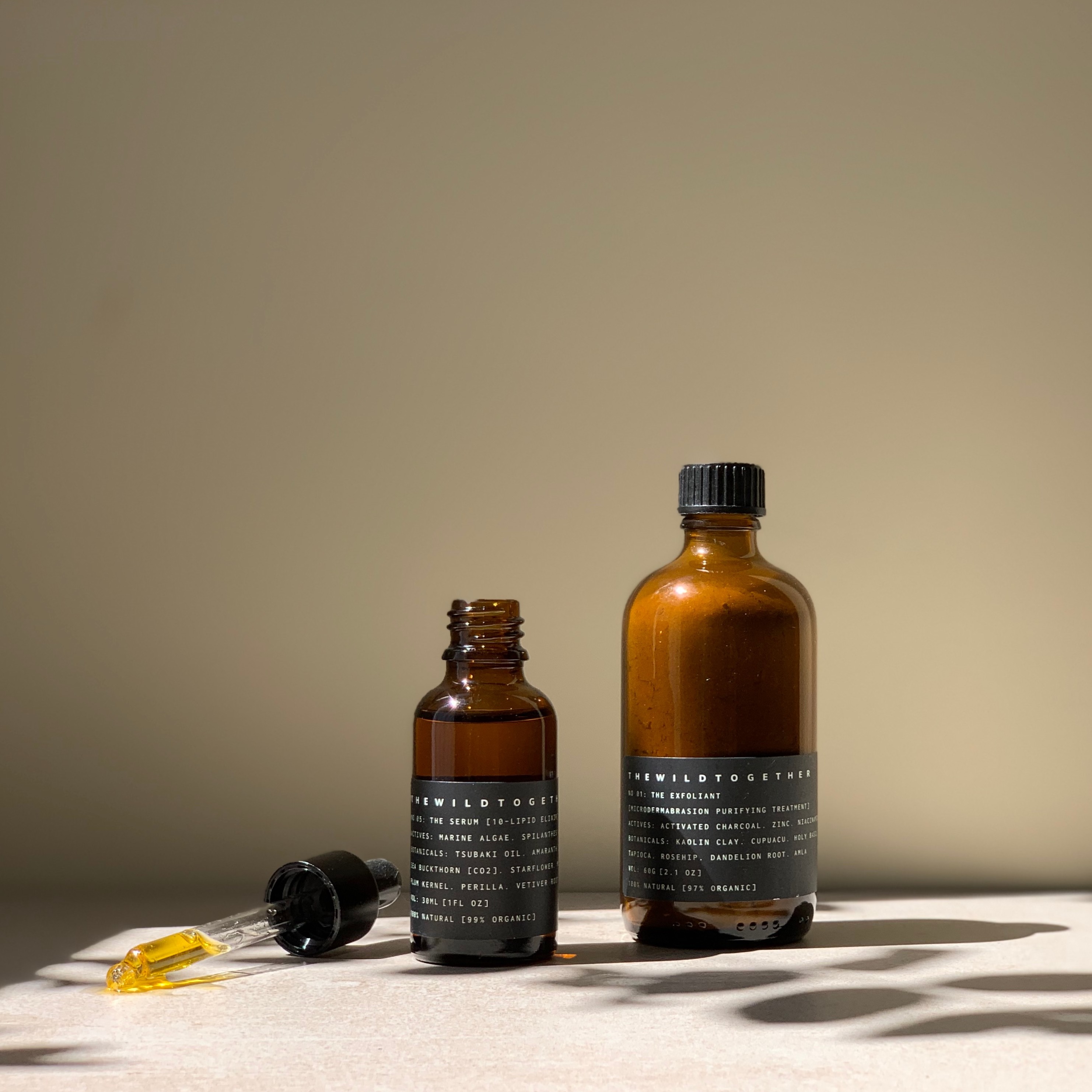 A hydrating facial polish to penetrate into the deepest layers of the skin to remove impurities, battle blemishes and lessen fine lines. Sufficiently gentle to use on the delicate neck and décolleté areas, the scrub deeply purifies skin without clogging or drying whilst balancing and hydrating to reduce inflammation and redness.
Normal, dry, sensitive and ageing skin.
Skin is left thoroughly cleansed and softened with a brighter complexion revealed.
Use 1-2 times weekly. Blend a generous amount of both THE EXFOLIANT and THE SERUM in palms. Massage into damp face. Remove with and a warm, damp face cloth.
An anti-ageing purifier to remove embedded toxins and impurities and to rebalance the skin. This decongesting cleansing balm that makes light work of dissolving dirt, make up, sunscreen and excess oil. Sufficiently gentle for use around the eyes, this moisturising blend melts stubborn mascara while conditioning and soothing skin (and eyelashes) with potent plant extracts. 
+ Adds an extra layer of protection for sensitive or dry prone skin whilst shaving
City dwellers, ageing and/or sensitive skin.
Skin is left purified, rebalanced, hydrated and nourished.  
Use nightly. Blend 5 drops of THE SERUM with 1 pump of THE CLEANSER. Massage into a damp face, shave or wash. Remove with a warm, damp face cloth.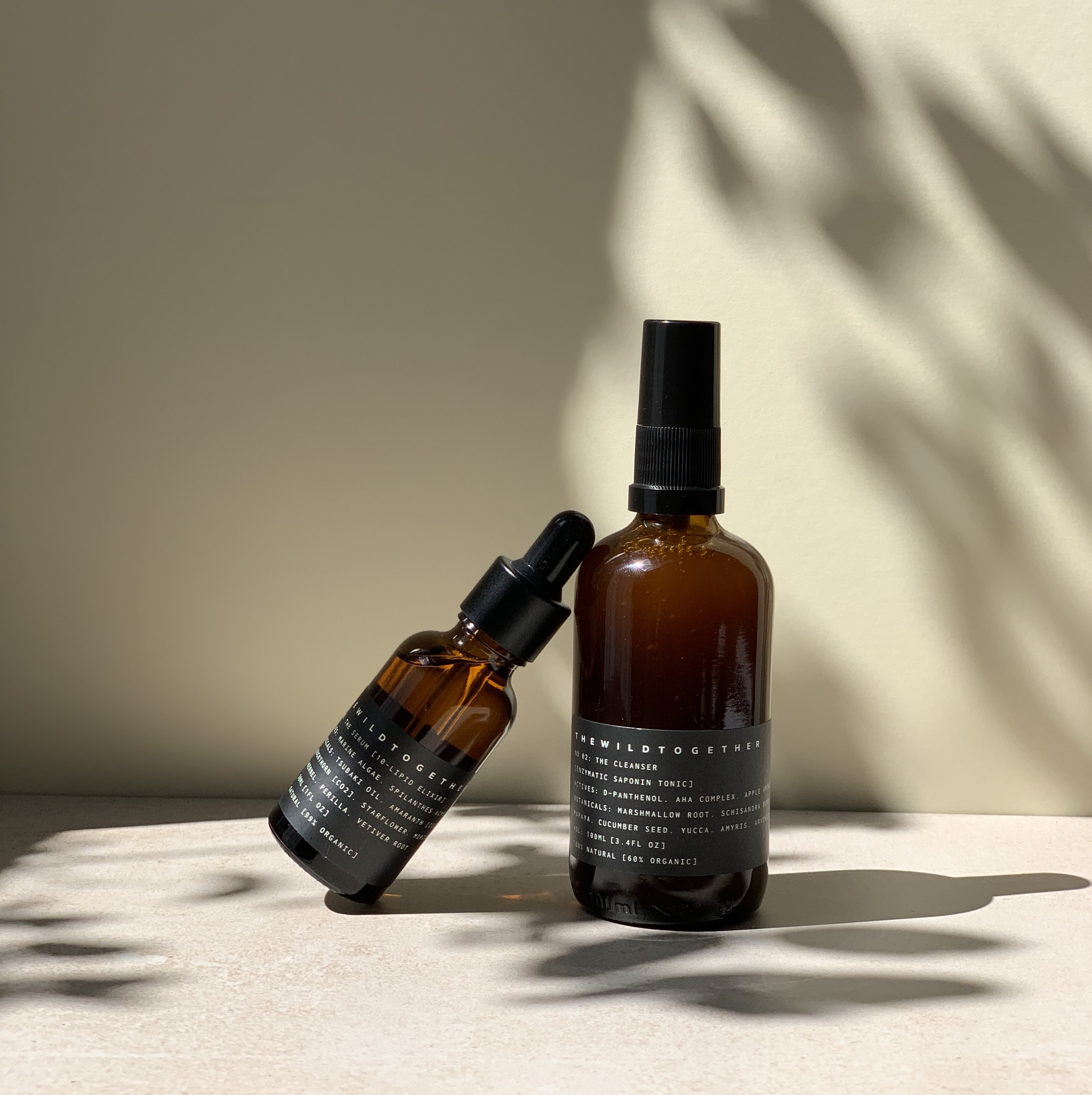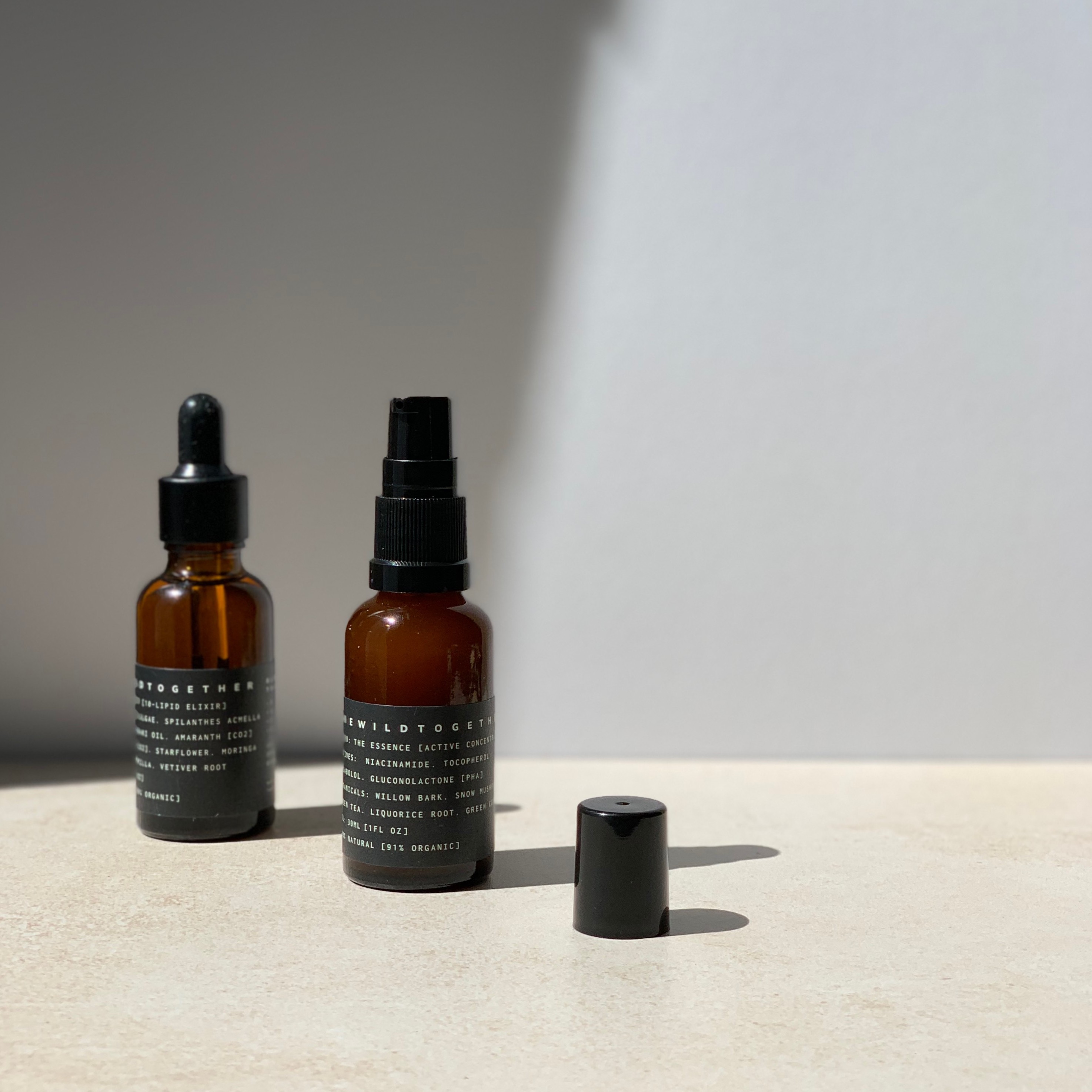 An instantly illuminating elixir, rich in antioxidants that delivers a concentrated dose of actives deep into the epidermis. This rescue serum for the skin that absorbs into the deeper dermal layers to protect, strengthen and detoxify. The intense hydration plumps out fine lines in the process. The perfect antidote for stressed, jet-lagged or sunburnt skin. 
City dwellers, aging, combination, dry and/or sensitive skin.
Skin is instantly refreshed, smoothed and brightened
Use 1-2 times weekly. Blend 1-3 drops of THE SERUM with THE ESSENCE, press fingertips to cheeks, forehead, and chin to evenly distribute the application before gently massaging it into the skin.
An intensively hydrating cream to replenish and reinforce the skin's natural barrier while you sleep. This luxurious, readily-absorbed rich cream works overnight to comfort, repair and protect sensitive, dry and stressed skin. The blend reduces inflammation and provides a boost of phytosterols to strengthen the skin's lipid barrier and encourage new collagen production.
Normal, dry, sensitive and ageing skin.
Skin is restored and nourished with a finer texture in the morning
Use 1-2 times weekly. Blend 1-3 drops of THE SERUM with THE MOISTURISER. Massage into skin. Apply before bed and leave overnight.
We set out to create The Wild Together with a singular vision: to radically shift the consciousness of the luxury care industry without compromising on quality, ethics or aesthetics. We wanted to give everyone access to better luxury skincare standards, so we took a direct-to-consumer approach – without intermediaries such as Wholesalers, Distributors and Retailers.
This allows us to guarantee the finest quality natural and organic products at fair prices for everyone our brand touches.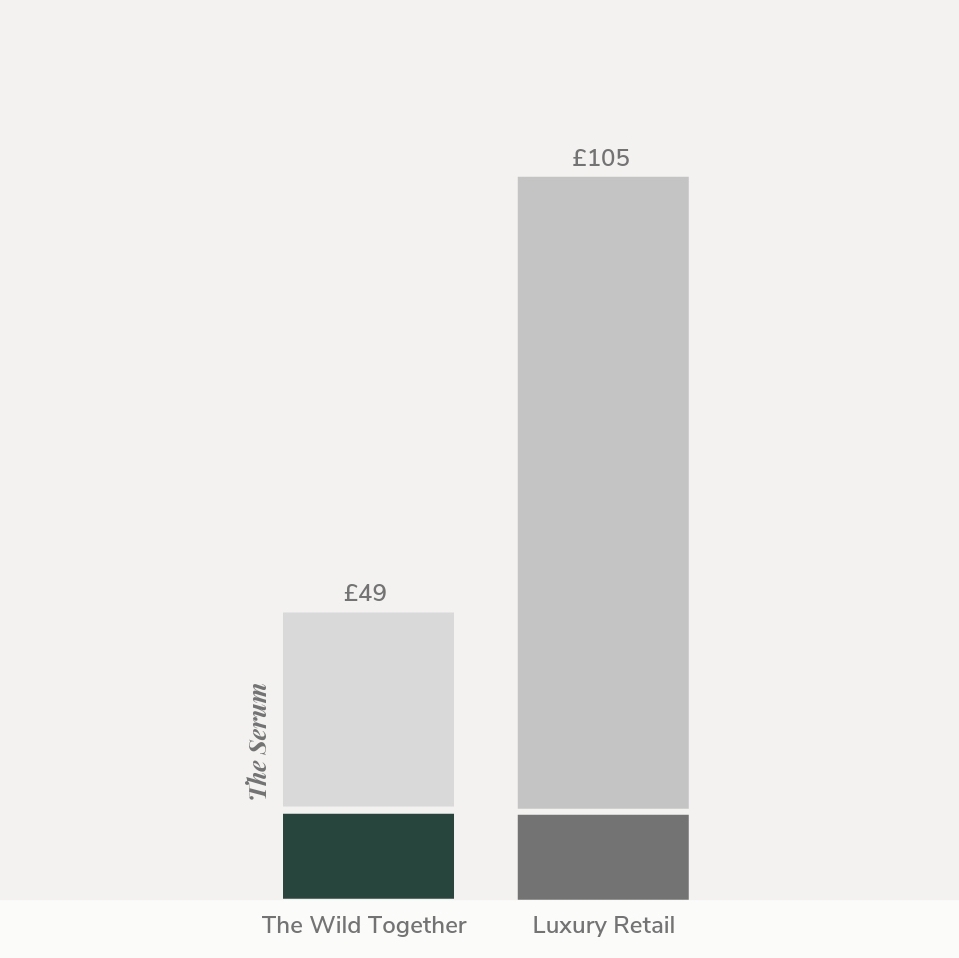 Made in the UK with Certified Organic, Vegan, Cruelty Free & Sustainably Sourced Ingredients.